H O W M A N Y A N G E L S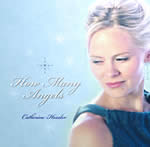 "How Many Angels" CD Single - $3.00
"How Many Angels" was written in 1999 by composer Katie Freeze for the Christmas Eve services at University Presbyterian Church in Seattle. It has become a beloved staple in the Larson Hall Christmas celebration. We recorded and released the single in the Winter of 2005.
"How Many Angels" is Mary's Song, an interpretation of the reflections of this new young mother after the baby Jesus was born. Mary holds the little miracle in her arms and knows that the angels too rejoice over his life. A life that will change the world. Mary considers both the enormity and the grace of her situation. With wonder and humility she embraces the truth that God chose her to play a beautiful role in the life of the Savior.
"I love how Katie has captured both the splendor of this great moment and the sweet quiet. I've known this song for many years but hearing her new string parts in the studio was incredible. She has such vision for musically shaping a story. This song to me, is more than just Mary's song. It also reminds me that we all have a part to play. We all can bring light to this world. We can be instruments today of God's love. And the angels will rejoice. " ~Catherine
You can buy "How Many Angels" right here, with PayPal!
"How Many Angels" is a production of Belle Towne Productions, LLC